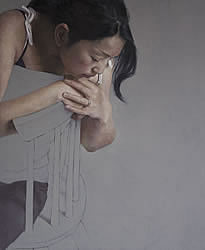 Jennifer Anderson

Since graduating from Duncan of Jordanstone College of Art in Dundee in 1997, Jennifer Anderson has focused on portraits and figure compositions in oils. She has exhibited widely throughout the UK, including the BP Portrait Award at the National Portrait Gallery, and internationally in New York and Zurich. She has been the recipient of many prizes including the HSBC Award for Best Young Artist (RP) and more recently the RGI David Cargill Award. Her work is much sought after and can be seen in many prestigious private and corporate collections worldwide.

'Jennifer Anderson is happiest when painting the people she wants to paint. It would therefore be wrong for me to describe her as a portrait painter, as such. She shies away from the more recognisable traits of her sitters: the perfect expression, the flattering stare. Instead, she focuses on the lost moments: the introspection, the joys and sadness. In their anonymity, the subjects on her canvases project a universal appeal, exploiting the full gamut of those human emotions with which we can all so easily identify.'


Roddy Martine
Author, Journalist and Broadcaster
It is our enormous pleasure to act as Jennifer's sole agent in England.
Dorina Mocan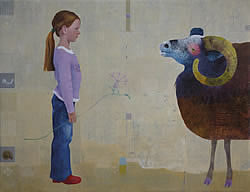 Dorina Mocan was born in 1954 in Romania. She moved to Sweden in 1981 and since then has been working and living in Upplands Vasby. During this time she has become one of Sweden's most respected artists and her work has touched many fans all around the world, including the Royal Family of Sweden. She has held numerous solo and group exhibitions around Europe, Mainland China, Hong Kong, Singapore and South America.

'Dorina Mocan's art is reminiscent of the murals of antiquity. As though lifted from a developing tank, brought forth in their original, unadulterated state, her pictures prompt thoughts of Pompeii before the catastrophe. She arranges colours against each other exquisitely; faded, light shades seem to have been layered transparently upon one another. With, however, strong accentuations; bright red rose hip breaks the silence and tranquillity of Mocan's world of imagery. Among the artist's props are principally; cats, birds, rams with imposing horns, women's heads, bowls and fruit. Painted with impressive exactness.''


Lars-Erik Selin
Art Critic
We are delighted to be the first gallery to introduce Dorina's work to the UK and it is our pleasure to exhibit her paintings at Art London 2007
Jonathan Shearer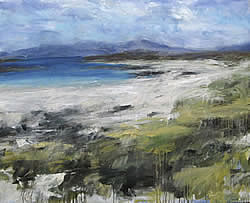 Jonathan lives and works in the Highlands of Scotland and is fast gaining a reputation as being one of the finest landscape artists of his generation.

'For me, Jon's strength is when he is describing a scene quickly. His sense of drama captures a moment, not with the cold eye of a camera lens but with an expressive gesture or brushstroke. This is the eye of the artist editing the superfluous details in order to arrive at the essence of a scene. The ambiguity of the paintings leaves something to the imagination, allowing the viewer to respond to different aspects of the work and this surely must be their triumph.'


Kevin Dagg
Lecturer in Fine Art, Edinburgh College of Art
A graduate of Grays School of Art (1993) and Cyprus College of Art (1996), Jonathan has exhibited widely throughout Scotland and has been the beneficiary of several awards including the Royal Scottish Academy, Sir Robin Philipson Memorial Medal and also the John Kinross Scholarship to Florence. His work is held in various public collections which include the Royal Scottish Academy and private collections throughout United Kingdom, North America, South East Asia and Cyprus. We are delighted to be showing his work at Art London 2007.
Click on images to enlarge
4 - 9 October, 2007



Art London



Jennifer Anderson
Dorina Mocan
Jonathan Shearer

Art London
Royal Hospital
Chelsea
SW3



Stand 57



Thursday 4
11am-8.30pm

Friday 5
11am-8pm

Saturday 6
11am-8pm

Sunday 7
11am-8pm

Monday 8
11am-8.30pm

> artlondon.net