Thursday 2nd - Monday 6th October, 2008
Emerson Mayes
Jia Juan Li
Jennifer Anderson
MacLean Fine Art at Art London
Stand 60
Thursday 2nd - Monday 6th
October, 2008

ENTRANCE
London Gate, Royal Hospital, Royal Hospital Road, Chelsea SW3
Underground: Sloane Square
OPEN
The fair opens daily at 11 am
and closes as follows:
Thursday: 8.30 pm
Friday, Saturday, Sunday: 8.00 pm
Monday: 8.30 pm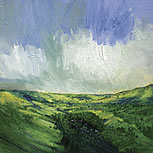 Emerson Mayes (36) is a Yorkshire-born artist who has experienced that rarest of things: success both critical and commercial since the beginning of his career as a painter.
From the day he graduated he has enjoyed a growing reputation for a fresh, honest and uncontrived approach to his work. The Young Artist of the Year Award, 1995, was the first of a number of major honours he has received. This, together with successful shows across the country, has resulted in an ever-growing group of loyal collectors, both private and corporate, resulting in Mayes being among the most exciting landscape painters working today.
MacLean Fine Art is delighted to be representing Emerson Mayes at Art London 2008.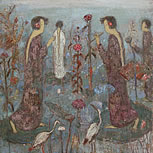 Jia Juan Li has been praised as one of the most renowned and important Chinese female artists in the world. Born in Hangzhou, 1960, Jia is now highly acclaimed both in Asia and internationally.
Her recent paintings depict female life at Court during the Qing Dynasty (1614-1912). This period in Chinese history - a remarkably rich one from a cultural perspective - fascinates Jia and has proved to be a major source of inspiration for her. The paintings all have a profoundly Chinese expression and atmosphere but it is Jia's ability to execute and incorporate western oil techniques, creating a fusion of East and West, which gives her work both subtlety and impact.
Jia's first major solo show in the UK was at Art London 2006 with MacLean Fine Art (a sell-out success) and we are delighted to be exhibiting her new work at Art London 2008.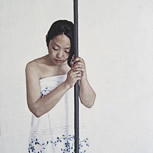 Jennifer Anderson is regarded as one of the most exciting figurative painters to emerge in recent years. Since graduating from Duncan of Jordanstone College of Art in Dundee in 1997, Jennifer Anderson has focused on portraits and figure compositions in oils. She has exhibited widely throughout the UK, including the BP Portrait Award at the National Portrait Gallery, and internationally in New York and Zurich. A regular prize winner of note, her work is much sought after and can be seen in many prestigious private and corporate collections worldwide.
"Jennifer Anderson is happiest when painting the people she wants to paint. It would therefore be wrong for me to describe her as a portrait painter, as such. She shies away from the more recognisable traits of her sitters: the perfect expression, the flattering stare. Instead, she focuses on the lost moments: the introspection, the joys and sadness. In their anonymity, the subjects on her canvases project a universal appeal, exploiting the full gamut of those human emotions with which we can all so easily identify"
Roddy Martine
Author, Journalist and Broadcaster
Jennifer Anderson has been exhibiting with MacLean Fine Art since 2001. We are delighted to act as her sole representative in England